Welcome to the item Academy!
Knowledge comes in many forms. Regardless of whether you need to learn about a specific product or wish to obtain training on a particular topic, the item Academy has the answer! It will provide you with exactly the knowledge you require to solve your latest challenge. Our online offerings allow you to choose when, where and on which device you learn. You set the pace.

To log in, please click on the button at the top right.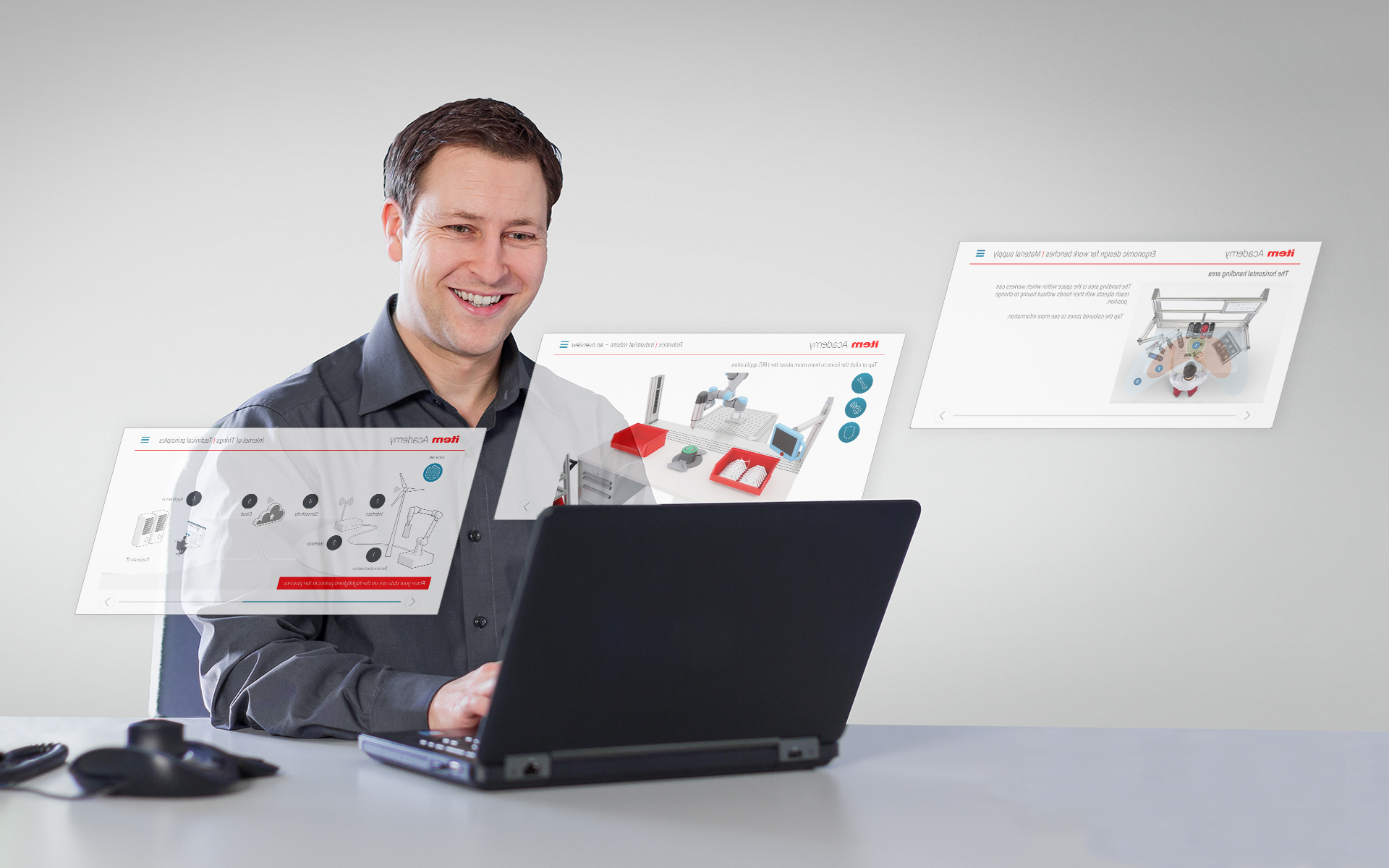 Why the item Academy is worth your while
Ideal for industry engineers and fitters, the item Academy provides you with
high-quality training content
in eight different languages. All you need is the free item user account. Simply register to benefit from unlimited access! With
interactive introductions to basic topics, assembly guides
for direct, on-the-spot use, time-saving
tips for your day-to-day work
and much more besides, you can expand your expertise – whenever, wherever and however you want. It's the perfect basis for optimising your performance and that of your department. You can also obtain
certificates
as official proof to customers and colleagues of your newly acquired specialist expertise.
Overview of training formats
From introductions to new topics and guides for item products through to tips for your everyday work and webinar recordings – the various training formats in the item Academy offer the ideal solution for every mechanical engineering requirement.
Examples of online training units
FAQ/Help
How much does it cost to use the item Academy?
item pays all costs associated with providing the content and the system for you.
What are the advantages of registering?
The free item user account gives you full access not just to the item Academy, but to all online offerings from item. Benefit from all the functions of the item online tools and Online Shop. You also have access to all downloads.
What devices can I use to view the content?
You can use the item Academy on any device that has internet access and an HTML5-compatible browser. We recommend using the latest browsers/devices for optimised display.
Does Adobe Flash need to be installed?
No. For security reasons, we do not use any content based on Adobe Flash.
Do I need a headset or speakers to be able to listen to the content?
No. There is normally no audio for any of the content. There may be specific exceptions, which are clearly identified as such.
How do I change my password?
To reset your password, you need to enter your email address on
this page
.
You will then be sent an email with further instructions.
How do I change my email address or other details?
You should log in via the website
https://www.item24.com
and then click your avatar to access your profile and/or addresses.
Where can I propose changes, provide feedback and offer suggestions?
We welcome your suggestions, positive comments and constructive criticism.
We examine all feedback very closely. Continuously improving the item Academy is important to us.
Please send your emails to:
academy@item24.com
Content is not displayed correctly.
We apologise if this is the case. Although we test content thoroughly before it is published, display problems may occur under certain circumstances.
If they do, you should follow the steps below, provided you are permitted to and it is technically possible:
Empty your browser's cache and refresh the page.
Update the browser to the latest version.
Try using an alternative browser.
If videos do not play smoothly or content is generated too slowly, change the device you are using and/or your location and try again.
Reboot your device.
If these suggestions fail to help, let us know by email or phone what exactly the problem is and what steps you have taken. We will then be happy to help.
Tel: +49 212 6580 0
Fax: +49 212 6580 222
academy@item24.com
There's no internet access at my assembly site.
The product know-how instructions are designed so they can be followed right at the work bench. However, you can also use them for training beforehand, putting the methods demonstrated to use later.

item offers training at its branches, too, as part of its face-to-face training portfolio. And, of course, item employees are there to help you in person if you have any questions.
I am unable to use the item Academy at my work bench.
You should get in touch with your IT department / service desk / help desk if you have one.
In certain cases, access to an external website needs to be enabled.
In such cases, this applies to the following website/URL:
https://academy.item24.com
How can I delete my profile?
You need to click your coloured avatar at the top right and then on "Profile" in the menu.
Next, click "Delete account" and follow the instructions.
You should be aware that this permanently deletes all records of progress to date.
Please note that this deletion will not affect your access to item24.
You can delete your item24 profile
here
.
We would very much appreciate you telling us why you wish to discontinue your access to the item Academy.
Simply send us an email at
academy@item24.com